A place to learn about the incredible world of natural dyes & share in your discovery with a growing community of like-minded people. Each month I'll be showing you how I create natural colours from seasonal plants growing in abundance. I'll be sharing everything I learn throughout the year from exciting discoveries, tips, recipes, troubleshooting & so much more.
A MONTHLY GUIDE TO SEASONAL PLANT COLOUR
Hello & welcome to The Colourway, a monthly membership focused on community, creativity & supported exploration through the incredible beauty of plant-based colour.
The Colourway is a place to come unwind & be inspired, all while learning about our natural world & the colours that lay dormant below the surface.
Sharing the incredible beauty & magic of plant dyes is where my passion lives & I cannot wait to share the details of my discoveries with you as we move through the changing seasons of the year.
x Kathryn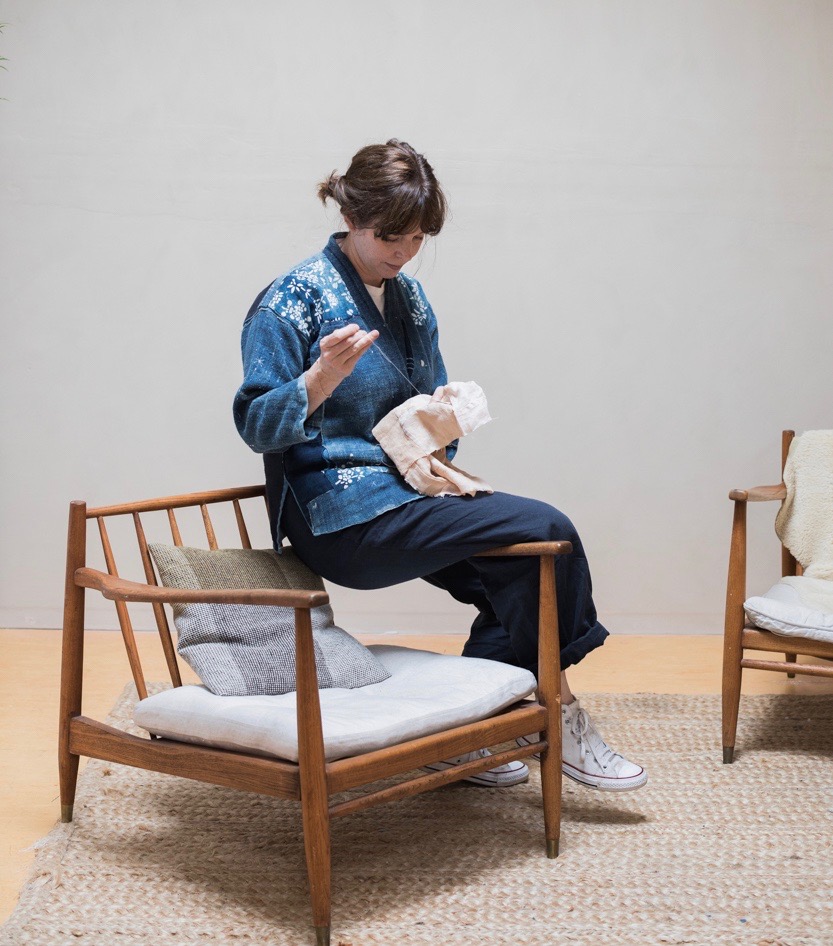 Loving being a part of your colour community. Thanks again. This is such a lovely treat to look forward to each month!
Pen Pender | Australia

As a member, you'll receive
A monthly in-depth seasonal guide to creating natural colour.
Exclusive content, tutorials & videos about natural dyeing, colour possibilities & nuances.
Clear guides to modifying, expanding and broadening your palette.
Recipes & step-by-step

instructions with colour references & illustrations.

24/7 Access to a growing library of seasonal natural colours.

A sample of what you'll find inside
Each month I document the colours possible from a seasonal dye plant, showing you the results on linen, cotton, wool & silk. The Colourway is a growing library of beautiful natural colours at your fingertips.

WHO IS THE COLOURWAY FOR?
The Colourway is open to anyone & everyone. This is a great follow on to any of my workshops or my book: Natural Dyeing, Learn how to create colour & dye textiles naturally. It's for those with an interest in textiles, natural dyes or the plant world. I have created it as a place for anyone wanting to reconnect to the natural world while learning about the incredible possibilities of natural colour as we move through the changing seasons of the year. It's a wonderful resource for those of you wanting to expand your knowledge & grow your confidence with support & guidance. It's a place for you to slow down, be inspired and supported in your discoveries, explorations & experiments with natural colour. This membership is here for you to dip in & out of when it suits you most.

frequently asked...
HOW MUCH IS THE MEMBERSHIP?
I have two membership options, basic membership starting at €12 p/m with all the features mentioned above. I also have a slightly higher priced option for those wanting to help support the studio. This option comes with a 10% discount on all products in my online store, e-courses, e-books & workshops*. Studio members also receive exclusive early access to new products, shop updates & sales.*(applies to workshops that I teach myself & not with other instructors).
HOW LONG IS THE MEMBERSHIP?
The membership is an ongoing subscription covering the seasonal colours as we move through the changing seasons of the year. There is no commitment & you can cancel anytime by going to your account management page & cancelling your subscription.
ONCE A NEW MONTH STARTS WILL I HAVE ACCESS TO THE PREVIOUS MONTHS?
Yes, as long as you are a member you will have access to all the information in The Colourway. You can take your time & dip in & out of this as it suits your schedule. The information will be there as a guide and a reference throughout your membership.
HOW DO I ACCESS THE INFORMATION?
You will be prompted to register with an email and password. Once you complete the process and add your card details you will gain access to the membership. You will also receive an email with your login details & password access. You will need this to enter the membership.
WHAT DO I NEED TO JOIN THE COLOURWAY?
You don't need much to be involved, as the information will be available to you on your device you can enjoy as a quiet observer or participate & share your work in our member's group. Once you register, the first section will tell you what tools or equipment you would need if you want to start replicating the colours in the tutorials. You don't need much to experiment with natural dyes: a pot, wooden spoon & a few buckets is all you need to get started. There are a few powders I recommend purchasing if you want to replicate the colours from my experiments. These are clearly outlined in the first section with links to supply stores.
WHAT IS COVERED IN THE MONTHLY GUIDE?
Every month, I will be talking about a seasonal plant and looking at it as a dye source. I will speak about the plant, where to find it with detailed photos & sometimes video. I will be looking at extracting colour, mordanting, colour influences, expanding colour possibilities through modifying & anything else that is necessary or important to note about creating & expanding colour possibilities.

Check your inbox to confirm your subscription